Home

/

Carbine LK4A Restricted Key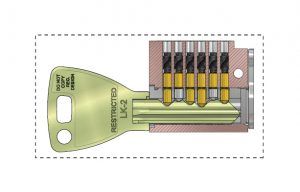 Carbine LK4A Restricted Key
POA
Description
LK4 High Security Anti-bump Key Systems

+ Patented Anti-Bump feature
+ Design registered keyway
+ Patented components registered until 2024

Introducing LK4, Carbine's new, effective, anti-bump restricted key systems.
Lock bumping has become more of an issue in keeping valuable assets secure.
LK4 has the optional feature of a patented anti-bump system.
These features will enable effective management of the security of your premises and peace of mind.
The LK4 system offers high levels of security, flexibility and quality in one complete package.

Security
• Unique patented Anti-Bump system
The LK4 system has a fully optional Anti-Bump pin design that can be easily added by your locksmith.

• Highly pick resistant key broach
The LK4's complex design makes it much more secure and resilient against lock picking attacks.

• Design Registered Keyway
We restrict the key blanks to authorised dealers, who are legally prohibited from unauthorised duplication. The key design is protected by Australian and New Zealand law.

Flexibility
• Coloured plastic key inserts available
Coloured key inserts are available as a great visual aid to allow you to easily manage your keys and security options.

• Complete range of cylinders
From mortice locks & leversets to deadlatches, the LK4 range includes cylinder housings to suit all major commercial & residential lock types.

Quality
• Manufactured to high precision standards
All LK4 components have been designed by Australian industry experts to the highest standards. The LK4 range is manufactured by lock manufacturing professionals with many years of experience.