Home

/

SAFES

/

SecuRam Safelogic Basic Keypad - Chrome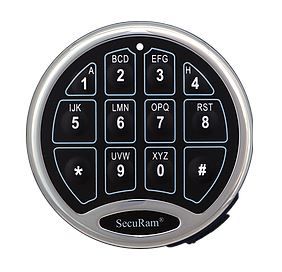 SecuRam Safelogic Basic Keypad - Chrome
Price:
$119.67 (Incl. GST)
Description
The SafeLogic Basic is a very reliable and robust safe lock system ideal for most applications. The SafeLogic Basic features SecuRam's rugged stainless steel construction.

This Entry Pad can be paired with any of the 4 SecuRam Lock Bodies: Swing-Bolt, Dead-Bolt, Spring-Bolt and Strike-Bolt.

Simple to Use and Reliable
Enter your 6 digit code and turn the safe handle. That's it.
Easy keypad programming allows for code changes, additions, and deletions. Enable and Disable function also available.
Battery Changes are simple. Slide upward on the Entry Pad to release from snap fit mounting system to change the 9 Volt battery on the back of the Entry Pad.
Every SecuRam lock undergoes a 2,000 cycle quality management program before it leaves the manufacturing facility.
Unprecedented commitment to quality and reliability.

Features
2 Codes: Manager Code and User Code
9 Volt Battery powers the system
10,000+ openings on a 9 Volt battery
5 minute Penalty Lock Out upon entry of 4 incorrect codes
Reset button to set the lock back to factory default
Standard footprint and mounting pattern, easy retrofit for any mechanical or electronic safe lock
Finishes available:
Chrome
Brass
Black Chrome
Nickel
SureLock Battery Compartment for easy Battery replacement, without removing the entry pad from the safe door.
Can be paired with any other SecuRam motorized safe lock bodies. Must be paired with EL-0601 for UL.